Weather, climate, climate tables, temperatures & best travel times worldwide
Climate Greenland
The island of Greenland, which is politically part of Denmark, stretches from the 59th to the 83rd parallel and is close to the North Pole polar climate. Given that it extends 2,600 kilometers from north to south and around 1,200 kilometers from east to west, it is not surprising that that climate yourself not uniform represents.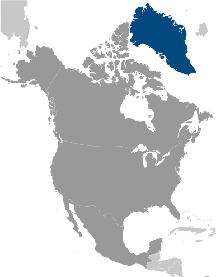 Influenced the climate of Greenland is different from that of the surrounding area Water mass and the Ocean currents as well as from the big one Land mass.
The East Greenland Current transports cold water from the north on the east coast of Greenland to the south. Therefore, it is sometimes cooler in the south in the summer months than in the north and overall cooler than the geographic location would suggest.
In the North comes in the summer of warming influence of the midnight sun added. That's why it's in the Summer warmer in the north than the south while it significantly milder in winter in the south than is in the north.
After the inflow of the Irmingerstroms, which carries warm water from the Gulf Stream, the two streams mix before the West Coast Greenland and take care of here milder temperatures and no ice during the whole year.
The large land mass the island ensures that inland the Climate more continental is than on the up to 150 kilometers wide coastal strip shaped by the sea. Accordingly, in the interior of the country, it can easily reach twenty degrees in summer. Average temperatures in the south of Greenland are around three degrees below freezing, while in the north they are minus 33 degrees Celsius.
The Rainfall are stronger in the south than in the north. In the south-west there is an average of 1,000 millimeters of precipitation per year, in the north only 200 millimeters.
Weather Greenland
Weather in Nuuk, the capital of Greenland
Weather in Greenland: The temperatures and rainfall for Nuuk in Greenland are from the website yr.no and are provided by the Norwegian Meteorological Institute and the Norwegian Broadcasting Corporation. The forecast is updated four times a day.
Best time to visit Greenland
The most suitable for a trip to Greenland Summer months (Mid-July to early September). During the months with the midnight sun, hikes, kayak tours or musk ox safaris are possible. Whale watching is also an option, especially in the summer months.
Many activities are also possible in Greenland during the winter: skiing, tours with snowmobiles, dog sledding or watching the northern lights. However, it is very dark and very cold, especially in the months of November to February - so travel is generally recommended not until March recommended.
Climate table Greenland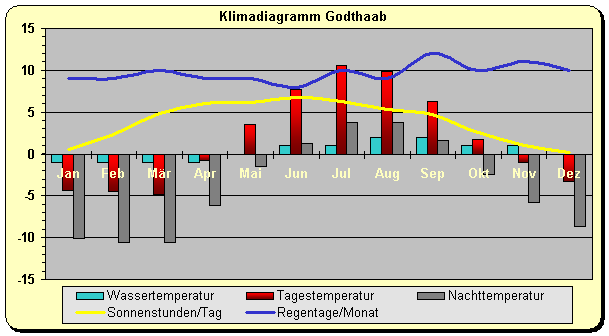 Climate in southern Greenland: Nuuk (Godthaab)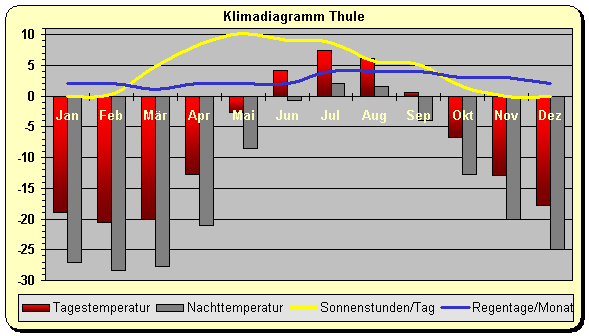 Climate in northern Greenland: Qaanaq (Thule)
Here you can find more climate tables for Greenland.
Climate in North America
For information on the climate, the best travel time and weather in other North American countries and areas, simply click on the names on the map: