What is a normal stock order
ks1help
Stock order
A warehouse order can either be generated by an automatic order proposal or entered manually.

Manually entering a warehouse order:
- Select the item "New creation" in order processing
- Activate the checkmark "Stock order"
- Select the warehouse for the order
- Save the job
- Enter the items to be ordered
- Place the order
In a warehouse order, you can only write orders and delivery notes (i.e. trigger reorders for your warehouse). The "usual" functionality (AB, fact) is not available when ordering from stock!
After the goods have been received from the supplier in the warehouse:
- Check the item quantities delivered and, if necessary, adjust them in the item of the warehouse order
- Book the warehouse order (if requested and if not already done, with incoming goods booking)
The booking of warehouse orders is done via the "Items" folder in order processing. Please select the desired items that you would like to book and then confirm the selection with the button "Book warehouse orders":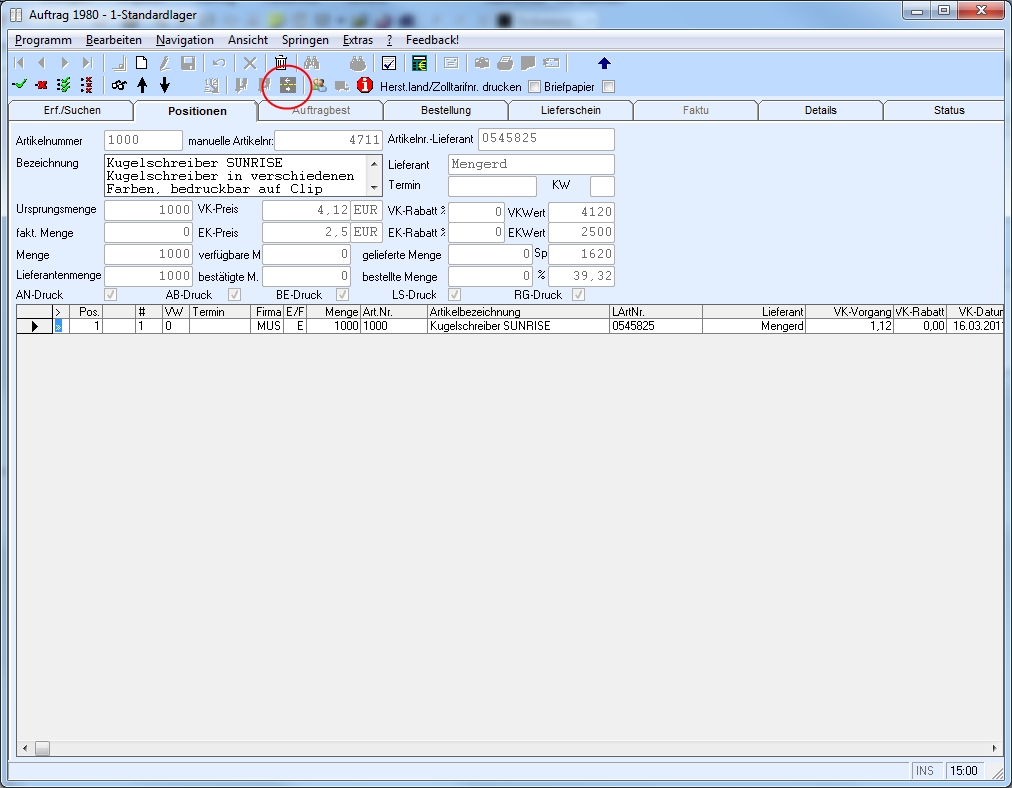 The "booking" of the items of a warehouse order is similar to the invoicing of a "normal" order. However, the special requirements of a warehouse order are covered here.
Assembly order:
Special features of parts lists: You can "produce" parts list items directly via warehouse orders and conveniently post them back to the warehouse. Proceed as follows:
1.) Enter the parts list to be produced as an item
2.) Enter the required storage location in the main item. The supplier must be empty.
3.) Enter the relevant warehouse for all sub-items as the supplier
4.) Carry out the stock write-off in the delivery note folder (menu Extras-> Goods issue without printing)
5.) Print out the packing slip
6.) Have the main article manufactured
7.) When the main item is ready, switch to the "Items" folder and post the stock order as described above.
8.) Select "Goods receipt for the main item".