What is soil erosion caused by water
Factors
Soil erosion by water depends on both natural and human-influenced factors. The natural factors include the erodibility of the soil, the erosiveness of the precipitation and the topography. Humans influence soil erosion by interfering with the natural vegetation layer and cultivating crops. Agriculture in particular promotes the process, as the soil surface is not protected from the impact of rain by the vegetation at certain times of the year.
process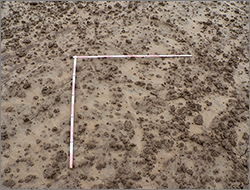 Source: Photo: J. Bug
Soil erosion by water is divided into two parts of the process. First, ground aggregates are destroyed by the energy of the rain hitting the ground (splash effect). The aggregates, which are reduced in size, clog the pores so that the infiltration capacity is reduced (silting up). In the second part of the process, the water, which cannot infiltrate, flows off the surface when the slope is steep and leads to the removal and displacement of soil particles.
Damage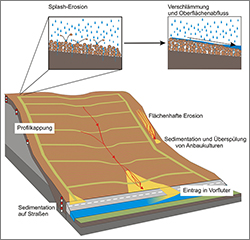 Damage from water erosion. Published in AID [ed. 2013] Source: AID, graphic: J. Bug
Water erosion causes damage both on and next to the affected area. The soil thickness decreases on the surface. The floor profile is cut. Plants are covered by sedimentation. The removed fine earth ends up on neighboring areas, on roads and in water bodies.

Modeling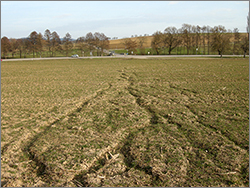 Fan-like erosion systemSource: Photo: J. Bug
The risk to the soil from water erosion can be estimated with the help of models. A widely used model is the general soil erosion equation (ABAG, Schwertmann et al. 1990). It is the form of the Universal Soil Loss Equation adapted to German conditions (USLE, Wishmeyer & Smith 1978):
A = K × R × LS × C × P
With
A: mean annual soil erosion
K: erodibility factor (soil)
R: rain erosivity factor (precipitation)
LS: topography factor (slope length L, slope inclination S)
C: cultivation factor (land cover)
P: factor of erosion control measures (soil protection)
The equation includes all relevant natural and anthropogenic factors. The result of the calculation corresponds to the mean annual soil erosion. A sensible classification of the values ​​can be used to visualize the risk to the soil from water erosion.

Literature:

AID [Hrsg.] (2013): Good professional practice: Soil cultivation and soil protection, aid infodienst Nutrition, Agriculture, Consumer Protection e.V., Bonn, 116 pp.

DIN 19708 (2005): Soil quality - Determination of the risk of erosion of soils by water with the help of ABAG, standards committee for water management in DIN, Berlin.

SCHWERTMANN, U., VOGL, W. & KAINZ, M. (1990): Soil erosion through water. Prediction of erosion and evaluation of countermeasures. - 2nd ed.; Stuttgart.

WISCHMEIER, W. & SMITH, D. (1978): Predicting Rainfall Erosion Loss: A Guide to Conservation Planning. - United States Department of Agriculture, Agriculture Handbook 537, 58 pp., 20 tab .; Washington.